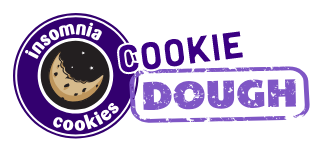 Earn Free Cookies with the Cookie Dough Loyalty Program!
One thing every Insomniac knows is that the only thing better than our warm, delicious cookies is…FREE cookies! That's why we created our Cookie Dough loyalty program – to reward you for every dollar you spend while filling those cookie cravings. Sounds like a pretty sweet deal!
SO HOW DOES IT WORK?
For every $1 you spend on your order of cookies, cookie cakes, ice cream, brownies or beverages from Insomnia Cookies, you'll get 1 point in your loyalty account. For every 100 points you earn, we'll give you $10 to spend at Insomnia Cookies.
BUT WAIT…THERE'S MORE!
More points! For orders over $20, you'll receive 1.25 points for every dollar spent, instead of the normal 1 point. Extra points are only available on orders placed on insomniacookies.com or the Insomnia Cookies mobile app.
Get started by signing up now!
New Customer
---
Have an account? Log in!
-